Hazardous Substances and Sites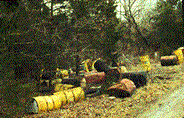 Hazardous substances have been released into the environment from multiple sources, both past and present. Releases may originate from sources such as agricultural and industrial activities, mining operations, landfills, leaking underground storage tanks, or transportation-related accidents. Within the Missouri Department of Health and Senior Services (DHSS), the Bureau of Environmental Epidemiology works closely with communities, environmental government agencies and industry to reduce or eliminate human exposure to hazardous substances.
Environmental Public Health Activities
Specifically, DHSS evaluates human exposure to hazardous substances and educates communities about possible adverse health effects from exposure to those substances.
This is done by:
determining if there are human health risks from exposure to hazardous substances,
developing recommendations to reduce risk of exposure,
informing the community of possible health risks from exposure,
addressing community health concerns, and
educating the community on how to reduce exposure to hazardous substances until risk is eliminated.
DHSS staff develops documents that include health consultations, public health assessments, exposure investigations, fact sheets and other site-specific information.
Chemically-related health information is also provided which may be site-specific or have a broader statewide focus. For example, fish advisories, lead poisoning, radiation, drinking water, radon and exposure to potentially harmful chemicals from methamphetamine production have a broader focus.