Let's Move Salad Bars to Missouri Schools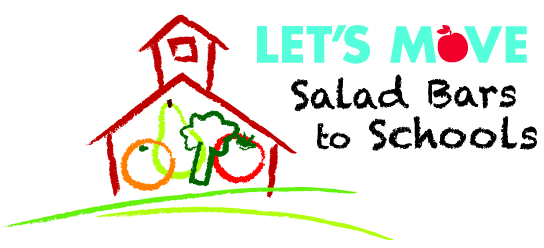 Opportunity for a Free Salad Bar
While there is growing awareness of the health and educational benefits that salad bars provide to kids, many school districts are unable to afford the basic equipment needed to adopt this strategy. The Missouri Department of Health and Senior Services (DHSS) is committed to helping schools make this positive change. The DHSS has funding to provide 18 Missouri schools with a new salad bar. Any schools participating in the National School Lunch and/or Breakfast program are eligible to apply, however those with over 60% of students eligible for free or reduced-price meals will receive preference.
If your school or Local Education Agency has interest in receiving a salad bar, please complete the required application and submit it to pat.simmons@health.mo.gov by close of business on June 1, 2015. For more information about this opportunity please contact Pat Simmons at pat.simmons@health.mo.gov or 573-522-2843.
Important Information and Dates:
Applications can be submitted for an individual school or for a LEA. A LEA application is required if more than one school in the LEA is applying.
No more than 3 salad bars per LEA will be awarded.
A letter of commitment from the superintendent or principal is required with the application.
Food service staff from schools receiving a salad bar will be required to complete online training on implementing a salad bar.
Applications from schools with over 60% of students qualifying for the free or reduced price meal program will be given preference.
Applications will be scored and LEAs showing the highest need will be awarded. A letter indicating award status will be sent out to applicants beginning June 15, 2015.
Applications are due June 1, 2015.
Let's Move Salad Bars to Schools is a national campaign with the goal of getting a free salad bar in every school that wants one.

This web page presents resources and information to connect schools and communities with the Let's Move Salad Bars to Schools Initiative. For more information, contact the Missouri Fruit and Vegetable Coordinator.
Let's Move Salad Bars to Schools makes it easy for schools to connect with donors looking to fund a salad bar without any of the usual fundraising challenges. View the School Information.
Meanwhile, Let's Move Salad Bars to Schools makes it easy for donors to connect not only to their school of choice, but also to schools that are prepared and enthusiastic to add a salad bar. View the Supporter Information.
Why all the buzz about salad bars?
Kids eat more fruits and vegetables when they have options. Since most children are not eating enough fruits and vegetables, this is a great opportunity to help them meet their nutritional needs.
School meal participation tends to increase when school lunch programs have a salad bar, which could mean more money for school nutrition programs.
Plate waste decreases when students are allowed to choose what they are going to eat.
Salad bars are an easy way for schools to meet the new USDA nutrition standards for school meals that emphasize serving more dark green, red and orange vegetables every week.
Salad bars can help schools meet the HealthierUS Schools Challenge (HUSSC) criteria.
Finally, salad bars are a perfect place to showcase fresh foods from your local farmer.
---
Resources