Family Care Safety Registry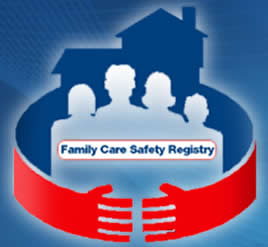 Missouri's Family Care Safety Registry (FCSR) was established by law to promote family and community safety. The registry helps to protect children, seniors, and the disabled by providing background information. Families and employers can call the registry's toll-free line to request background information on registered child care, elder care, and personal care workers or to request licensure status information on licensed child care and elder care providers. This service is intended to provide information to help families and employers make informed decisions when hiring employees to work with children, the elderly, and the disabled.
IMPORTANT NOTICE
Effective October 1, 2016, the Family Care Safety Registry Worker Registration fee will increase to $13.00. The fee increase results from a change in state law and is required by the Missouri State Highway Patrol.

The Family Care Safety Registry will return Worker Registration forms, submitted with the incorrect fee, that are postmarked on or after 10/01/2016. Updated Worker Registration forms will be available to download at http://health.mo.gov/safety/fcsr no later than September 15, 2016, or may be obtained by contacting the FCSR toll free at 866-422-6872.
ATTENTION:
In order to minimize your waiting time, the FCSR encourages the use of online registration for credit or debit card users, and online background screening for eligible employers.
On 10/20/2015, the FCSR started emailing notifications to individuals who register. Please make sure the free Adobe Acrobate Reader software is installed on the device used to check email. Download it from their website https://get.adobe.com/reader/ or visit your app store.
Those who prefer to submit a registration or request background screenings by submitting a paper form to the FCSR can find the most current versions here. Forms are processed in the order received.
If you have any questions about the use of online registrations or online background screenings, please click the links above or contact the FCSR at 1-866-422-6872.