Rural Community Health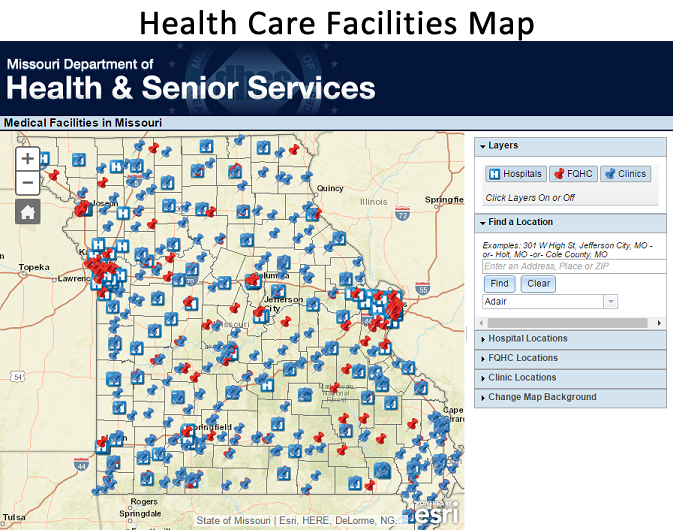 New RHIhub Missouri Program Feature!
Rural Health Information Hub (RHIhub) has posted another Missouri program on their Rural Health Models and Innovations website. Health Care Collaborative of Rural Missouri's Network Projects describes the HCC Project Connect and Warehouse that offers services and goods to underserved adults in Missouri.
Performance Excellence Awards for Critical Access Hospitals (Missouri Hospital awarded)
Recently, the National Rural Health Association announced its slate of 2017 Top 20 Critical Access Hospitals, selecting overall "Top 20 Winners" and "Top 20 Best Practice Recipients" in the areas of Quality and Patient Satisfaction. Please join us in Congratulating: Lafayette Regional Health Center in Lexington, MO for being honored as one of the recipients of the "2017 Top 20 Best Practice Recipient for Excellence in Quality" Award. The awards breakfast honoring all Top 20 CAH personnel was held at NRHA's Critical Access Hospital Conference, Sept. 27-29 in Kansas City.
The press release and all related materials, including a criteria sheet, may be found here.
National State Office of Rural Health Program Celebrates 25 Years
Federally funded since 1991, the State Offices of Rural Health grant program is celebrating its 25th Anniversary year. The State Offices of Rural Health program is a federal-state partnership that helps rural communities build their health care services through collaborations and initiatives with a wide range of partners across the state. The State Offices are charged with being a source of coordination, technical assistance, and networking; partnership development; and assisting in the recruitment and retention of health care providers. There are 50 State Offices of Rural Health in the nation, one in every state.
Click here for a video celebrating the State Office of Rural Health Program!
A challenge to rural communities is to establish and sustain a health care system. The components of such a system can vary, but should include a hospital with an established referral pattern for services, an adequate number of primary care providers, transportation for routine and emergency care, and public health services.
Typically, a hospital, health center and/or rural health/family clinic provide the necessary health services. But, in areas with an often limited number of providers, the local health department is an important source of patient care.
Rural Missouri communities face different health care and wellness issues than larger metropolitan areas. Receiving health care services may be challenging in remote areas due to travelling long distances to see a physician for routine checkups or screenings. It may also be difficult to get to a hospital quickly in an emergency.
A mainstay of the safety net in rural areas is the community health center, also referred to as a Federally Qualified Health Center (FQHC). These centers must serve everyone without regard to ability to pay because they receive federal grants to support care for the uninsured. FQHCs are community-based organizations that provide comprehensive primary and preventive care, including medical, dental and behavioral health services.
Rural health care clinics (RHCs) are vital for providing primary and preventative care. RHCs are required to use a team approach. RHCs must be staffed by at least one nurse practitioner (NP) or physician assistant (PA) or certified nurse midwife (CNM). The NP, PA or CNM must be on-site to see patients at least 50 percent of the time the clinic is open.
Rural hospitals provide essential health services to the community. They deliver essential health care services to their citizens and are an important source of economic growth and stability in their local economy. The growth and stability comes from their direct provision of jobs, indirect support of local services and health care employees spending on commodities and services. In addition, health care providers offer health insurance for their employees and pay taxes to the community.
Rural areas often have fewer doctors and dentists, and certain specialists may not be available. Because of this, the health of rural Missouri residents may be more serious by the time of diagnosis. Therefore, it is critical for the safety and well-being of rural citizens that quality health care services be maintained in rural areas. The Health Resources and Services Administration developed programs such as the Medicare Rural Hospital Flexibility (Flex) Grant Program and Small Rural Hospital Improvement Program (SHIP) to assist rural hospitals and to improve access to care.