Smoking and Tobacco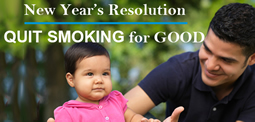 Start the New Year Tobacco-Free
Help available for smokers trying to quit
Every January 1, people all over the world make New Year's resolutions. If you're one of the nearly 7 in 10 U.S. smokers who want to quit, why not make a resolution to get started? Smoking is still the number one cause of preventable death and disease in the United States. Quitting now can cut your risk for diseases caused by smoking and leave you feeling stronger and healthier.
For those trying to quit, help is available right now by calling 1-800-QUIT-NOW (1-800-784-8669) or visiting https://www.quitnow.net/Missouri/.
The Missouri Tobacco Quitline is free to Missourians who want to quit smoking or using other tobacco products. The Quitline is available twenty-four hours a day, seven days a week.  Both the toll-free number and the internet enrollment will register you to talk to a trained quit coach who will help you plan your quit. The coach can also suggest other resources to help, like nicotine replacement therapy.
As the start of a New Year approaches, isn't now the perfect time to quit smoking for you and those that matter most?
---
Tobacco Free Missouri Youth
Clear MO Air: It's Time for Action Rally

March 15th, 2017
Jefferson City
10:00 a.m. - 2:00 p.m.
Tobacco Free Missouri Youth Clear MO Air Rally is one of over 1,000 events that will be held nationally on March 15, 2017 in conjunction with National Kick Butts Day. National Kick Butts day is an annual event organized by Campaign for Tobacco Free Kids where people throughout the nation highlight the deadly toll of tobacco and stand together against the tobacco industry.
Youth, ages 8th -12th grade, are invited to attend the second annual Tobacco Free Missouri Youth Statewide Rally. Attendees will participate in a group of activities that will help them understand how to get the attention of decision makers and elected officials about the need to implement tobacco control best practices. Lunch is provided along with opportunities to network with other advocacy leaders. Leadership and recognition awards will be presented.
For more information click the following link: http://motobaccofacts.org/wp-content/uploads/2017/01/Youth-Rally-Flyer-2.pdf
---

Smoking is the most preventable cause of disease, disability and death in Missouri. Nearly 10,000 Missourians die every year from tobacco-related illnesses, including lung cancer, heart disease and stroke. More than 1,100 additional deaths are caused by exposure to secondhand smoke every year.
Tobacco use also creates a significant economic burden in Missouri. Approximately $2 billion is spent every year in Missouri to treat smoking-related illnesses.
Although Missouri's smoking rates are still high, there has been a significant decline in adult smoking from 2011 and 2012. Approximately twenty (20.6) percent of adults and eleven (11.0) percent of high school students in Missouri smoke. Smoking rates are also high among pregnant women in Missouri. Approximately one of every six pregnant women smokes, a rate significantly higher than the national average. Smoking during pregnancy increases the risk for preterm delivery, stillbirth, low birth weight and Sudden Infant Death Syndrome.
Tobacco Control in Missouri
Missouri's comprehensive tobacco control initiatives include efforts to create community smokefree air laws, youth tobacco use prevention, tobacco cessation assistance, and education and awareness through media.
Missouri Tobacco Quitline
Missouri offers free help to smokers who want to quit using tobacco. The Missouri Tobacco Quitline provides counseling, information, and referrals. The Quitline number is 1-800-QUIT-NOW (1-800-784-8669).
Life Savers - Programs For You!


WISEWOMAN
Get access to health screenings and lifestyle education that can reduce the risk of heart disease and stroke.