Smoking and Tobacco
Tobacco Companies Must Run Court-Ordered Ads Telling the Truth about Their Lethal Products
Starting Nov. 26, the major U.S. tobacco companies must run court-ordered newspaper and television advertisements that tell the American public the truth about the deadly consequences of smoking and secondhand smoke, as well as the companies' intentional design of cigarettes to make them more addictive.  The ads – called corrective statements – will run in print and online in about 50 newspapers. They will also run for one year on the major television networks during prime time.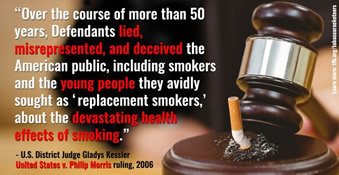 The ads are the culmination of a long-running lawsuit the U.S. Department of Justice filed against the tobacco companies in 1999. A federal court in 2006 ordered the tobacco companies to make these "corrective statements" after finding that they had violated civil racketeering laws (RICO) and engaged in a decades-long conspiracy to deceive the American public about the health effects of smoking and how they marketed to children. The ads will finally run after 11 years of appeals by the tobacco companies aimed at delaying and weakening them.
This case and the corrective statements are timely reminders both that tobacco use remains an enormous public health problem in the United States – it is the No. 1 cause of preventable disease and death – and that tobacco's horrific toll stems directly from the harmful practices of the tobacco industry.
View the full text of the corrective statements and details on when and where they will run.
For More information with background on the case and shareable materials, including the corrective statement ads and social media visit the
Campaign for Tobacco-Free Kids
.
---

Smoking is the most preventable cause of disease, disability and death in Missouri. Nearly 10,000 Missourians die every year from tobacco-related illnesses, including lung cancer, heart disease and stroke. More than 1,100 additional deaths are caused by exposure to secondhand smoke every year.
Tobacco use also creates a significant economic burden in Missouri. Approximately $2 billion is spent every year in Missouri to treat smoking-related illnesses.
Although Missouri's smoking rates are still high, there has been a significant decline in adult smoking from 2011 and 2012. Approximately twenty (20.6) percent of adults and eleven (11.0) percent of high school students in Missouri smoke. Smoking rates are also high among pregnant women in Missouri. Approximately one of every six pregnant women smokes, a rate significantly higher than the national average. Smoking during pregnancy increases the risk for preterm delivery, stillbirth, low birth weight and Sudden Infant Death Syndrome.
Tobacco Control in Missouri
Missouri's comprehensive tobacco control initiatives include efforts to create community smokefree air laws, youth tobacco use prevention, tobacco cessation assistance, and education and awareness through media.
Missouri Tobacco Quitline
Missouri offers free help to smokers who want to quit using tobacco. The Missouri Tobacco Quitline provides counseling, information, and referrals. The Quitline number is 1-800-QUIT-NOW (1-800-784-8669).