Planning a Safe Place for Your Baby to Sleep
Throughout the first year of life, sleeping babies have died accidentally from: suffocation; smothering; wedging; being trapped under someone else while sharing a bed; being placed to sleep on a sleep surface not intended for an infant; and from Sudden Infant Death Syndrome (SIDS).
Babies sleep in many places. This is often based on cultural, traditional, or personal reasons. Regardless of where babies sleep, all babies need a safe sleep environment.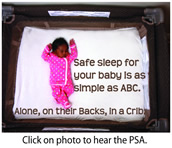 It was more than thirteen years ago that the American Academy of Pediatrics (AAP) released its first policy statement on reducing the risk of SIDS. The statement recommended that all healthy infants be placed on their backs to sleep in order to reduce the risks of SIDS. Since then, the percentage of infants placed on their backs to sleep has increased dramatically, and the rates of SIDS have declined by more than 50 percent. Since the AAP published its Year 2000 statement on SIDS several issues have become relevant, including the significant risk of side sleeping position. The AAP no longer recognizes side sleeping as a reasonable alternative to fully supine sleeping.
In October 2011, the AAP published its most recent recommendations for infant sleep to reduce the risk of SIDS and other sudden infant deaths:
Back to sleep for every sleep: Infants should be placed for sleep wholly on their back for every sleep by every caregiver until one year of life. Use a firm sleep surface. A firm crib mattress, covered by a fitted sheet, is the recommended sleeping surface to reduce the risk of SIDS and suffocation. Room-sharing without bed sharing is recommended.
Keep soft objects and loose bedding out of the crib to reduce the risk of SIDS, suffocation, and entrapment, and strangulation: Soft objects, such as pillows, quilts, comforters, sheepskins, bumper pads, stuffed toys, and other soft objects should be kept out of an infant's sleeping environment. Loose bedding such as blankets and sheets may be hazardous. The infant could also be placed in a sleep sack that is designed to keep the infant warm without the possible hazard of covering the head.
Avoid alcohol and illicit drug use during pregnancy and after birth: There is an increased risk of SIDS with prenatal and postnatal exposure to tobacco, alcohol, and illicit drugs.
Breastfeeding is recommended: Breastfeeding is associated with a reduced risk of SIDS. If possible, mothers should exclusively breastfeed or feed with expressed human milk, not offer formula or other supplements, until the infant is six months of age.
Consider offering a pacifier at nap time and bedtime: Although the mechanism is yet unclear, studies have reported a protective effect of pacifiers on the incidence of SIDS. The protective effect persists throughout the sleep period even if the pacifier falls out of the infant's mouth. For breastfeeding infants, delay pacifier introduction until breastfeeding is established.
Avoid overheating: Although studies have revealed an increased risk of SIDS with overheating, the definition of overheating is varied. Therefore it is difficult to provide specific room temperature guidelines for avoid overheating. The infant should be lightly clothed for sleep, and the bedroom temperature should be kept comfortable for a lightly clothed adult. Overbundling should be avoided, and the infant should not feel hot to the touch.
Infants should be immunized in accordance with recommendations of the AAP and the Centers for Disease Control and Prevention. There is no evidence that immunizations cause SIDS.
Avoid commercial devices marketed to reduce the risk of SIDS: These devices include wedges, positioners, special mattresses, and special sleep surfaces. Do not use home cardiorespiratory monitors as a strategy to reduce the risk of SIDS.
Supervised awake tummy time is recommended to facilitate development and to minimize development of plagiocephaly.
Health care professionals, staff in newborn nurseries and neonatal intensive care nurseries, and child care providers should endorse the SIDS risk reduction recommendations from birth.
Media and manufacturers should follow safe sleep guidelines in their messaging and advertising.
Expand the national campaign to reduce the risks of SIDS to include a major focus on the safe sleep environment and ways to reduce the risks of all sleep-related infant deaths including SIDS, suffocation, and other accidental deaths.
Continue research and surveillance on the risk factors, causes, and pathophysiologcial mechanisms of SIDS and other sleep-related deaths, with the ultimate goal of eliminating these deaths entirely.
Beginning June 28, 2011, all cribs manufactured and sold (including resale) must comply with new and improved federal safety standards. The new rules, which apply to full-size and non full-size cribs, prohibit the manufacture or sale of traditional drop-side rail cribs, strengthen crib slats and mattress supports, improve the quality of hardware and require more rigorous testing. The details of the rule are available on the Consumer Product Safety Commission (CPSC) website. The new rules also apply to cribs currently in use at child care centers and places of public accommodation. By December 28, 2012, these facilities must use only compliant cribs that meet the new federal safety standards.
RESOURCES:
Policy Statement, SIDS and Other Sleep-Related Infants Deaths: Expansion of Recommendations for a Safe Infant Sleeping Environment, American Academy of Pediatrics, 2011.
SIDS Resources Inc.
First Candle
Missouri Department of Health and Senior Services brochure titled "Safe Sleep for Your Baby" is available on the Department website, brochure #674 (English) or brochure #811 (Spanish) can be downloaded here.
Missouri Children's Trust Fund. Safe Sleep and Shaken Baby video