Ombudsman Program
Missouri ombudsman program consists of volunteers serving residents of nursing homes and residential care facilities to provide support and assistance with any problems or complaints. Complaints concerning abuse, neglect and financial exploitation should be reported first to the Missouri Division of Senior Services Adult Abuse Hotline, 800-392-0210. Individual volunteers are recruited by Area Agencies on Aging (AAAs) or their service providers. Following screening and training, the volunteer is assigned to a facility that has agreed to participate in the program. The ombudsman receives orientation to the facility and its procedures, prior to making regular contact with the residents.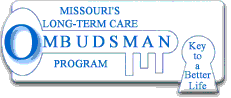 Having a volunteer assigned to a particular facility provides the most accessible means of complaint resolution. Missouri's Long-Term Care Facility Regulations include resident access to the services of an ombudsman, 19 CSR 30-88.010-2(18).
The program seeks to diminish the sense of isolation experienced by residents, especially those without family. The volunteer ombudsman can assist the resident in achieving a sense of self determination. Ombudsman volunteers strive to reinforce the importance of residents rights. While residents are provided information regarding their rights upon admission, the ombudsman is there as the resident adjusts to the facility to reiterate those rights and offer assistance in exercising those rights.
Even though facilities are required to have a grievance procedure, residents may be hesitant to voice concerns/complaints to a facility staff person for any number of reasons, i.e., fear of retaliation if the complaint was directed at a staff member. However, since ombudsman volunteers are often members of the community and not tied to the facility, they are perceived as more objective/receptive to complaints. Residents may even hesitate to register a complaint with an ombudsman volunteer initially; however, one of the advantages of the volunteer program model is that it enables the volunteer to become a trusted friend over a period of time. By regular contact with residents, the volunteer becomes a confidant. The resident is assured of confidentiality, and the ombudsman volunteer will not pursue a complaint without the resident's permission. Once the ombudsman gains the resident's confidence, he may be able to provide encouragement and information to allow the resident to handle the complaint himself or the ombudsman may be asked to speak on behalf of the resident to administration and/or other parties regarding any problems. The ombudsman volunteer provides prompt feedback to the resident regarding efforts to resolve complaints.
Ombudsman volunteers are special. They are asked to make a significant commitment to the program, not only in terms of pre-placement and on-going in-service training but through weekly contact with residents, reporting and travel.