Web Tool Provider Communications
HCBS Web Tool System Enhancements
February 19, 2015
The following enhancements to the HCBS Web Tool have been completed and are scheduled for implementation on February 20, 2015:
Financial Management Services (FMS)*
FMS has been added to the HCBS Web Tool as an automatic display when Consumer Directed Personal Care - Independent Living Waiver is approved.

Financial Management Services (FMS) is a service within the Independent Living Waiver that provides administrative assistance on behalf of the participant. Reference MO HealthNet Provider Bulletin Volume 36 Number 26 dated May 2, 2014.
'Duplicate Task/Frequency Exists' error message
Functionality has been corrected on the Requested Service Line Item in the Task Detail Line Item section. The 'Duplicate task/frequency exists' message no longer displays when utilizing the 'select' button to make changes to a previously saved task/frequency in the Task Detail Line Item section.


Attachments
An attachment can now be added to a case regardless of the case status.
The attachment subject line defaults to blank. A selection from the subject drop down list is required before an attachment can be saved.
Units authorized for the Personal Care - Consumer Directed task of Essential Transportation will now display on both print versions available from the Participant Case Summary screen.
Case Notes
Functionality has been changed to combine the contact date and the priority field with the text box when 'Add Case Note' is selected. When save is selected upon completion of the contact date, the assigned priority and the associated case note, the box automatically closes. The newly added note is immediately visible in the Case Notes grid.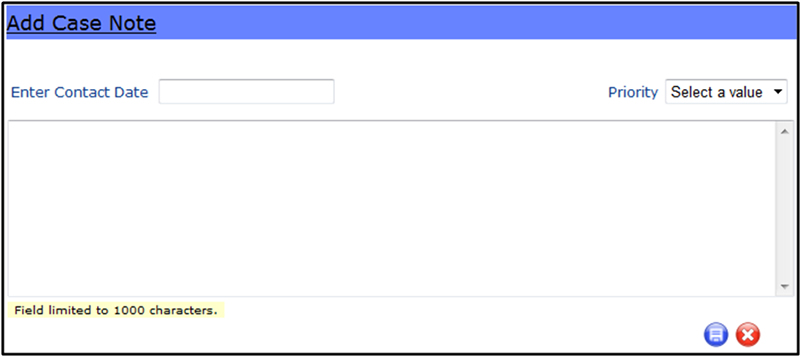 Any questions regarding this memorandum should be directed to the HCBS Web Tool Project Management Unit at DSDSWebTool@health.mo.gov.