Immunization Record Reporting to ShowMeVax
There are two ways to report immunization records to the Missouri Department of Health and Senior Services (DHSS) immunization information system, ShowMeVax: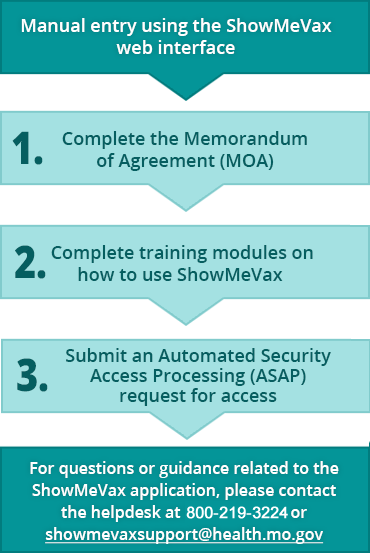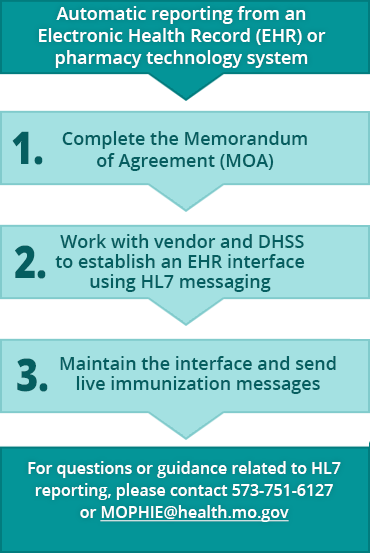 A memorandum of agreement (MOA) must be reviewed and signed by a party legally responsible for the organization (i.e. an Owner, Director or Administrator). If the organization has more than one location, complete the site demographics page for each separate location or contact showmevaxsupport@health.mo.gov for a spreadsheet template to list each location. Completed MOAs can be faxed to 573-526-0238 or emailed to showmevaxsupport@health.mo.gov.
The instructions for using the Automated Security Access Process (ASAP) will be emailed to the contact person after the MOA is approved. Each staff member at each location that will be accessing ShowMeVax must complete these steps to create their own profile and receive login credentials. Sharing logins is prohibited per the ShowMeVax security policy.
Each staff member who will be accessing the ShowMeVax online application must complete Modules One and Two of the ShowMeVax online trainings located at https://health.mo.gov/showmevaxu. Modules Three and Four are recommended for those manually entering immunization records into the system. The survey at the end of each training module must be completed in order to document that training has been completed. The online trainings may be completed prior to receiving approval of the MOA; however, access will not be granted until the MOA has been approved and trainings completed.
Automatic reporting of immunization information through an HL7 interface requires an Electronic Health Record (EHR) or pharmacy technology system capable of meeting the DHSS implementation guide specifications for HL7 messaging. Providers should contact their EHR or pharmacy technology system vendor for confirmation of their system's capability. Completing an HL7 interface can take up to six months based on the availability of DHSS and vendor resources.