Monoclonal Antibody Treatment
If you test positive for COVID-19 and would like to receive a monoclonal antibody (mAb) infusion, please discuss a medical evaluation and/or referral with your healthcare provider. The list below is intended as a resource for those providers to find treatments for their patients.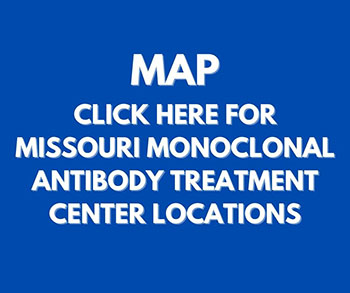 What is a monoclonal antibody?
Monoclonal antibodies (mAb) are laboratory-made proteins that mimic the immune system's ability to fight off harmful antigens such as viruses. mAb s directly neutralize the COVID-19 virus and are intended to prevent progression of disease. The mAbs are most effective when given early in infection. mAbs are administered in an outpatient setting.
Who is eligible to receive a mAb infusion?
1) Individuals who have tested positive for COVID-19. mAb infusion should be administered within 10 days of symptom onset or positive COVID-19 test, whichever came first.
2) Vulnerable individuals over the age of 12 who have had a significant exposure to COVID-19, but may not yet test positive themselves.
Where can I receive a mAb infusion?
The map on this webpage provides locations of current providers which are taking public referrals. There are other providers in communities which are only providing mAb infusions to their own patients, so be sure to ask your healthcare provider, local hospital or local community health clinic.
What is the cost of a mAb infusion?
At the state-operated sites on the map, there is no cost as all costs are paid by the state. At all other sites, you should inquire to assure you have full information. At this time, the federal government is providing the mAb medications at no cost to all providers nationwide.
Are mAb infusions appropriate for individuals at high risk?
Individuals at high risk are eligible and may benefit from mAb infusions. Examples of high-risk categories include, but are not limited to: obesity or being overweight; pregnancy; chronic kidney disease; diabetes; immunosuppressive disease or immunosuppressive treatment; cardiovascular disease; sickle cell disease, neurodevelopmental disorders; or having medical related technological dependence.
How are monoclonal antibodies administered?
Monoclonal antibodies are administered by a healthcare professional via an intravenous infusion typically, although they may be administered subcutaneously also. The process takes approximately 30 minutes for the infusion. When making an appointment however, please allow up to three hours for the full visit to allow monitoring time following your infusion.
State-operated infusion centers process referrals centrally, while private sites should be contacted directly. For referral instructions, please visit the site map.