Stop the Spread of Flu/Wash Your Hands Online Order Form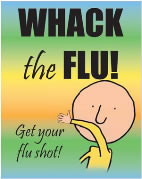 Help spread the word about healthy habits such as covering your cough and washing your hands.
Stop the spread of flu and cold germs that can make you and others sick.
Resources include kid-friendly materials from the WHACK the Flu program.
Take these prevention messages and share them with other groups and organizations you belong to. These materials are free of charge.
---
Stock No. - Title
Quantity Requested