Family Care Safety Registry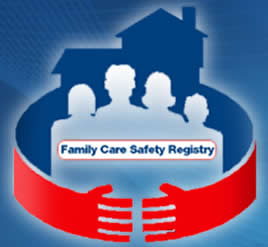 Missouri's Family Care Safety Registry (FCSR) was established by law to promote family and community safety. The registry helps to protect children, seniors, and the disabled by providing background information. Families and employers can call the registry's toll-free line to request background information on registered child care, elder care, and personal care workers or to request licensure status information on licensed child care and elder care providers. This service is intended to provide information to help families and employers make informed decisions when hiring employees to work with children, the elderly, and the disabled.
IMPORTANT NOTICE - Toll-Free Call Center Closure
The Family Care Safety Registry (FCSR) toll-free call center and facsimile machine (fax) line will be closed on Tuesday and Wednesday, October 6-7, 2015, due to office relocation. The call center and fax line should reopen the following day. While FCSR staff will not be available by telephone or fax October 6th or 7th, our online services will not be affected. Use the links above to check if someone is already registered with the FCSR, to register with the FCSR online using a credit or debit card, download forms, or use your personal user ID and password to request FCSR screenings online.

IMPORTANT NOTICE - FEE INCREASE
Effective March 1, 2015, the Family Care Safety Registry Worker Registration fee will increase to $12.00. The fee increase results from a change in state law and is required by the Missouri State Highway Patrol.

The Family Care Safety Registry will return Worker Registration forms, submitted with the incorrect fee, that are postmarked on or after 03/01/2015. Updated Worker Registration Forms will be available to download at http://health.mo.gov/safety/fcsr/forms.php no later than February 15, 2015, or may be obtained by contacting the FCSR toll free at 866-422-6872.
ATTENTION:
Eligible employers that prefer to request background screenings by submitting a paper form to the FCSR can find the most current version here. Forms are processed in the order received.
In order to minimize your waiting time, the FCSR encourages the use of online registration for credit or debit card users, and online background screening for eligible employers.
If you have questions about the use of online registration or online background screenings, please click the links or contact the FCSR at 1-866-422-6872.