Publications
Missouri Comprehensive Tobacco Strategic Plan
Missouri Comprehensive Tobacco Sustainability Plan
Missouri Comprehensive Tobacco Communication Plan
Current Missouri Youth Smoking Rates - Graph
What Is Wrong With This Picture? Fact Sheet
Missouri's Clean Indoor Air Law
Recommendations for Action: Cessation Plan Component
Health Risks of Smoking from A-V
The Health and Economic Burden of Smoking in Missouri, 2000-2004 (May/June 2007) Reprinted with permission from Missouri Medicine 2007 May/June; 104 (3) pgs 265-269, Copyright 2007. Missouri State Medical Association.
The Health Consequences of Involuntary Exposure to Tobacco Smoke - A Report of the Surgeon General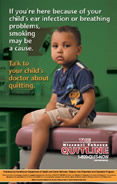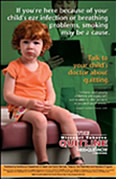 Local Public Health Departments and family health care professionals may order quantities of the these publications to encourage clients to quit smoking by clicking here.
Resource Documents