Katy Trail Challenge
(formerly Extreme Health Challenge)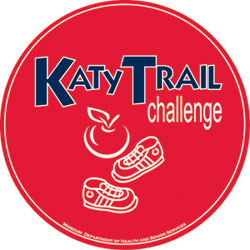 The Katy Trail Challenge is a fitness activity for youth that includes a physical activity component and a fruit and vegetable component. The challenge also incorporates lessons that highlight locations along Missouri's Katy Trail State Park. This toolkit was designed for use in elementary schools, but can be used by other youth groups such as Scouts, 4-H, etc. This toolkit gives general instructions, but you may modify to meet the needs of your group.
Call the Team Nutrition Project Director at 573-522-2820 regarding availability of posters and pedometers for the challenge.
Incentives for groups in Missouri are available while supplies last.
Registration for Incentives
Download Instructions and Materials

Optional Resources:
This project has been funded at least in part with Federal funds from the U.S Department of Agriculture. The contents of this publication do not necessarily reflect the view or policies of the U.S. Department of Agriculture, nor does mention of trade names, commercial products, or organizations imply endorsement by the U.S. Government.