Research

Introduction | Research | Action Plan | Carrying Out the Plan | Evaluation
Community Action Resource Kit
RACE to help others in your community defeat diabetes!
Research
Define the Problem
The first step in your RACE to help your community defeat diabetes is to define the problem. Just how bad is diabetes? How does diabetes affect the people in your community? The first steps you may want to take in your research are to find out:
What diabetes is.
What uncontrolled diabetes does to a person's body.
What helps prevent or slow down diabetes.
Any of the following websites will help you with this background research.
Centers for Disease Control and Prevention
National Diabetes Education Program
National Diabetes Information Clearinghouse
Missouri Department of Health and Senior Services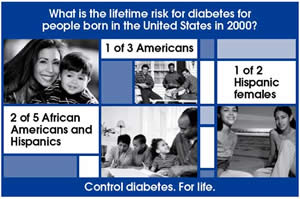 Find Data About Diabetes
You will want to find out how many people have diabetes and how many suffer from the complications of diabetes. Find information about diabetes in your area with the Community Data Profiles. To look for information on diabetes:
Choose "Diabetes (Updated date)" from the list available for the first field.
In the next field you can choose to look at data for all of Missouri, for a region in the state, or for a specific county. (County level is the most specific data on hand.)
You can find how diabetes ranks among other diseases and conditions in a county by using the Priority MICA (Missouri Information for Community Assessment, pronounced "my-kah"). The Priority MICA is used to show how diseases or risk factors rank. You can use criteria and populations (race, sex, age, county) you choose to learn the rank.
You can compare a county's diabetes data found in the Community Data Profiles with national diabetes data rates. Go to the Centers for Disease Control and Prevention's website at http://www.cdc.gov/diabetes/statistics/index.htm for national information.
Do a Community Assessment
A community assessment will help you make sure you provide the information or services people really want or need—and to the people who really want and need them. Ask the people in your community what they know about diabetes. Ask them what they think is available—or not available—to help prevent or control diabetes. One way to do this is to survey the people or organizations you want to help. The survey can include questions about:
The age, gender, or other general characteristics of the survey-taker.
The risk factors for diabetes.
The steps to take to manage diabetes.
Local educational programs or support groups for diabetes.
Local health services for diabetes.
Local buildings, parks, or trails for exercise.
Local grocery stores or restaurants that serve nutritious food.
Whether people can get to the programs, services, or facilities.
For a sample community assessment survey of diabetes, heart disease and stroke support systems, click here.
While you are doing the survey, you might also do your own community "inventory." This will let you see what is really out there. You can then check that against what people say is available. One reason to do this would be to see if you have services that no one knows about.
Other ways to find out information about the community—and do your own inventory—include:
Observation (seeing for yourself what is available),
Looking for local sources of data,
Interviewing people on the street or people knowledgeable about the community,
Holding a community meeting, or
Putting together a focus group.
Keep records on whatever type(s) of assessment you do and the responses received.
For more information about community assessment see:
North Central Regional Educational Library | The Community Tool Box (NPS) | The Community Tool Box (KU) | University of New Hampshire