Information for Pregnant Women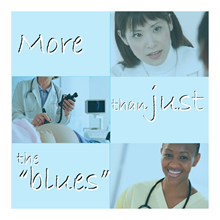 A 2007study shows that more than half of the women who experienced postpartum depression had also been depressed before becoming pregnant or during pregnancy.
In fact, depression affects 10-15 percent of pregnant women and can start in any trimester (Dietz, et al; Clinically Identified Maternal Depression Before, During, and After Pregnancies Ending in Live Births; American Journal of Psychiatry, October 2007). The effects of untreated perinatal depression can be poor nutrition and care for the pregnant mother, which also affects the baby, as well as substance abuse, which can hurt both the mother and baby. In the longer term, if left untreated, there can be poor parenting behaviors once the child is born and an increased risk of postpartum depression and relapse.
Some of the risk factors for serious perinatal depression include:
Prior premenstrual dysphoric disorder
A family history of depression or bipolar disorder
Teenage pregnancy
Unmarried pregnancy
Low-income pregnancy
A recent stressful event, such as marital/partner discord, loss of a loved one, family illness and premature birth
Treatment for perinatal depression includes:
Support, including support groups, family, friends and help lines
Counseling
Treatments, such as light, alternative medicines
Antidepressants
The key to treating depression in pregnant women is recognizing the signs and symptoms and having it properly diagnosed. It's not a condition that will "just go away" once the mother has given birth. If you're pregnant and think that you might be suffering from perinatal depression, talk to your health care provider right away.
For more information call:
TEL-LINK: 1-800-TEL-LINK or 1-800-835-5465
Email: info@dhss.mo.gov