State Public Health Laboratory
Spring 2013 edition of Beyond the Scope
The training calendar has been updated with the 2013 training dates. Click here to access the training calendar.
---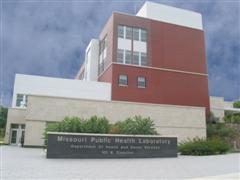 The Missouri State Public Health Laboratory (MSPHL) is dedicated to the promotion, protection, and assurance of the health of Missouri's citizens by providing a wide range of diagnostic and analytical services. These services include quality-assurance laboratory testing for infectious diseases, genetic disorders and environmental health concerns, both in support of public health programs, and as a reference laboratory performing unusual or specialized procedures. The laboratory provides scientific expertise and managerial leadership in meeting the rapidly changing challenges in the clinical and environmental laboratory disciplines and in the development of public health policy.
About five million tests (many required by law) are performed in the MSPHL and one branch laboratory located in Poplar Bluff. Approximately 406,920 mailing kits are assembled and distributed each year for the return of specimens from hospitals and private laboratories as well as city, county and district health offices. The MSPHL also functions as a reference lab for medical laboratories in the state and confirms results or completes organism identification.